How To Bake A Rich Chocolate Shortbread Biscuit
I love this chocolate shortbread but you have to be careful when baking it.
Bake it too long and the cocoa powder will burn and turn the chocolate shortbread into a bitter tasting unpleasant mouthful.
Not what you want!
When I first baked this shortbread I tried to make it in a square baking tin but now I prefer using a
as I find it makes the presentation of the biscuits look better. Cut into triangular pieces, the shortbread looks tastier! Don't ask me why I just said that, but I think it does and it makes me feel less guilty about eating more biscuits.
Chocolate Shortbread Biscuits: The Video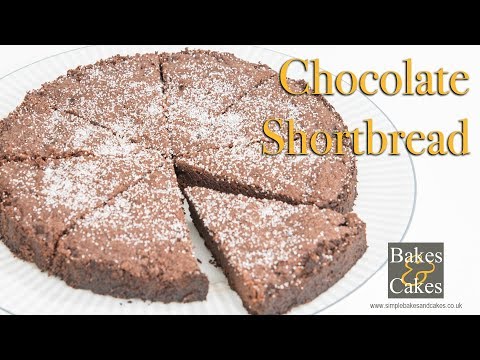 Ingredients
260g plain flour
100g caster sugar
40g cocoa powder
1 pinch of salt
200g unsalted chilled butter
Extra granulated sugar for dusting
Directions
Pre heat the oven to 180 degrees centigrade
grease a 20cm round loose bottom baking tin
cream together the caster sugar and butter
sift in the flour and salt
mix in the cocoa powder and stir everything together
tip into the baking tray and press down firmly with your fingers
bake in the centre of the oven for 25 minutes or until only just firm.
remove from the oven, cut into triangles whilst still in the tin and sprinkle with sugar
Leave to cool then remove and store in an airtight container.
Another way of presenting this shortbread is to make them in a classic way as Paul Hollywood does in his book
. His recipe is here.
I have a shortbread biscuit recipe where they are cut into rounds and decorated with Demerara Sugar which gives the light shortbread biscuits and lovely sweet crunch. It really depends on the type of biscuit you are looking for.
Enjoy and let me know how you get on.